PROJECT WOO
Tattoo Artist Dr Woo Launches A Skincare Line
With a three year wait list, 1.6 million followers on Instagram, and clients that include Zoë Kravitz, Travis Scott, Cara Delevingne, Hailey Bieber and Frank Ocean to name a few, Los Angeles tattoo artist Dr Woo is often referred to as "the most in-demand tattooist in the world." Known for his distinct, minimalist art that boasts extremely detailed fine-line work using a single needle and a steady hand, the intricacy of Woo's work has been likened to a pencil drawing, with the human body as his canvas.
Woo, who works out of Suite X, an under-the-radar, by-appointment-only studio inside the Hollywood Roosevelt Hotel, has collaborated on fashion projects with labels like John Elliot, Sacai and Converse and has his own label Hideaway. Now he's getting into the skincare game.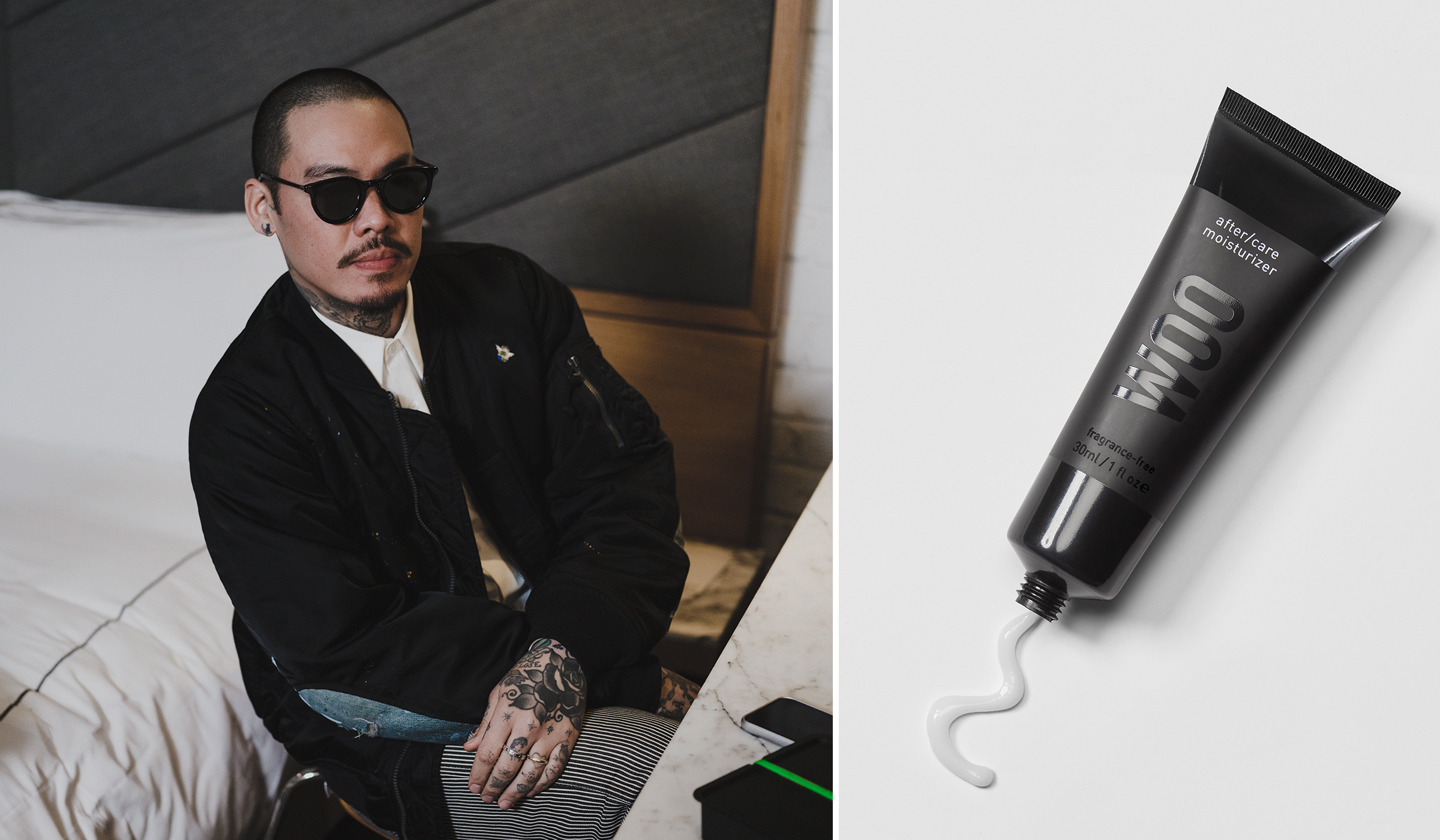 The line was originally set to launch back in April but was postponed due to the coronavirus outbreak. Instead Dr. Woo unveiled just one item, The Daily Gentle Soap, as part of a hand-washing initiative with 100 percent of the proceeds going to the charity Baby2Baby, a non-profit that provides help for families and children in poverty. Now Project Woo is back on track with a curated collection of skincare essentials formulated to nourish, protect and care for even the most sensitive skin – with or without ink - starting with a Tattoo after/care kit, Duo Hand Sanitizer and SPF 30 for Face & Body. 
"WOO Skincare is a collection of premium clean skincare essentials for daily use that the whole family can take advantage of," he says of the inspiration behind the line. "Knowing the delicate balance of taking care of your new tattoo can be the caveat for its healing journey and understanding how to properly take care of your new tattoo will increase the longevity."
The WOO after/care kit includes a coconut oil-based soap and moisturizer formulated with water break technology that provides a cooling, soothing sensation to injured skin; shea butter to facilitate skin healing; vitamin E to help fight free radicals and restore skin health; sesame seed oil with zinc to calm inflammation and irritation; and chamomile to calm and accelerate skin healing. Packaged in a sleek recyclable black box, the kit also comes with the added perk of an exclusive Dr. Woo art collectible.
"The packaging was one of my favorite parts of working with my team at WOO Skincare," he says. "The design lends itself to my brand aesthetic as well as being sustainable and leaving as minimal of a footprint on our planet as possible. The custom artwork inside each product is inspired by each launch and in a way is a personal thank you for supporting our project. The featured illustrations are inspired by the mood I was in while creating that specific product for WOO Skincare."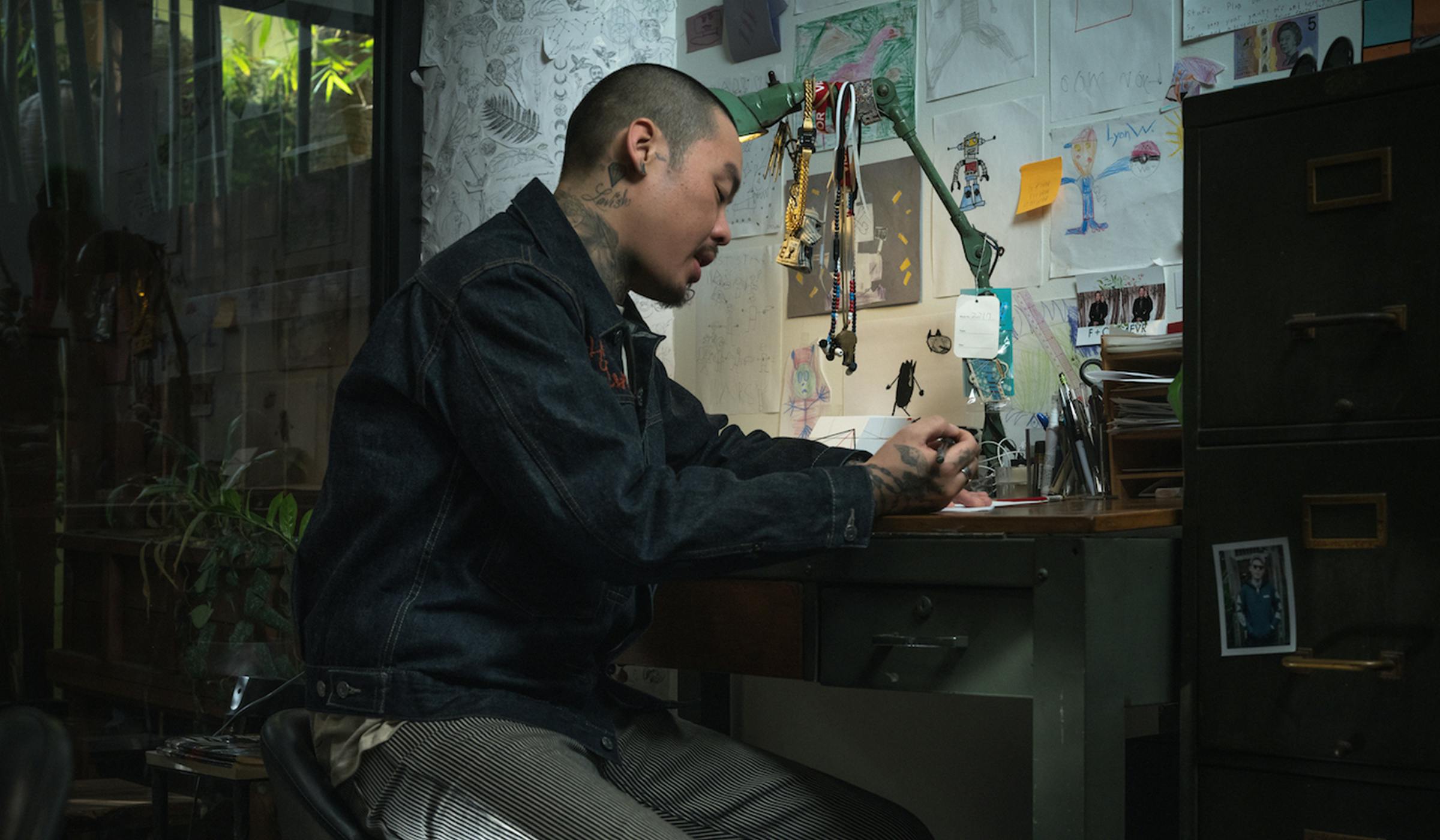 The mineral based SPF30 sunscreen is fragrance-free and formulated with a zinc oxide that won't leave a white cast on deeper skin tones or tattooed areas. Finally, in tune with the times, the WOO minty and sanitizer offers a luxe alternative to the synthetic numbers currently clogging store shelves. Cruelty free, paraben and phthalate free and made in the U.S, it destroys 99% of common germs within 15 seconds as it contains 70% ethyl alcohol, exceeding CDC minimum recommendations. There are more products in the works, so keep an eye on this space.